So recently I was lucky enough to connect with Sunday Stilwell of Adventures in Extreme Parenthood and the first thought that came to mind after I read through her blog was "Where the hell have I been?"
Sunday is all kinds of cool but her Special Needs Ryan Gosling series is what puts the icing on the cake.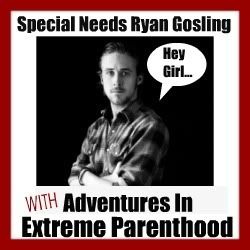 Every week she creates personalized posters of Ryan and spreads the cheer to her readers and she's invited us to do the same.
I'm in and I'm jumping into week four with my first contribution:
Thanks Sunday, for the fabulous idea and the inspiration. I love the lighter side of special needs parenting!